About the sculpture series "Painters"
They rise up, enigmatic, as some "stonehenges" that would have lost their anonymity while keeping their mystery. If these wooden sculptures stand in front of our eyes with all their complexity, their mass and volumes, they are, before anything, inhabited.
After all these silhouettes are not anonymous, they bear the names of artists whose oeuvre and life have, in some particular way, marked the sculptor who created them.
We cannot ignore then, what their names bring to mind. For each of us it will be different, we'll perceive these presences with all the information we have or not. The person who will never have seen or heard of Remedios Varos will appreciate her double with innocence as rich and fertile as the historians' knowledge .
With this series, we encounter the painters Paul Cézanne, Henri Matisse, Frida Khalo, Pierre Bonnard, Remedios Varo and le Douanier Rousseau. Why this choice? It's rather simple: they all share a particular connection with the sculptor: through their works and personal lives, they have inspired their creator, just as much as they have impressed the general public.
What comes out at first sight are silhouettes that interrogate us; they are the ones proposing paths of reflections escaping linearity. That would be the danger: to restrain the sculptures inside a narrative filled with academism or to approach them with a cold, contemporary conceptualism.
In the way they meet us and speak to us in their silence and the way they inhabit our imagination, nourish our interrogations, sensations, memories, they confront us in our present and one cannot help but ask: What would they think of our world and the world of Art today?
One has to wander about the artist who undertook such a challenge: the sculptor Dusan Petran. A multifaceted artist with conjugated talents, a man, complex and reserved. The worlds of theatre and of the great human comedy were precocious sources for the artist who, at a very young age was fascinated by the baroque sculptures of his native Czechoslovakia. Dusan started sculpting to find a calm refuge from the backstage agitations of the theater world. He nourished his spirit with the last books circulating in secret, because banned in those grey days of life before the fall of the wall. It is thus that, more than once, he was able to save himself from a hostile world, East and West.
From Shakespeare to Don Quichotte, from Gertrude Stein to Frida Kahlo, Dusan's sculptures are all set on a stage, as if they posed there, under our eyes, with their humour, their poetry and their poignant depth.
It is a real encounter that the sculptor invites us to experience, with lives that expressed something powerful and unique, lives that transcended matter, the mundane, the critiques, solitude and treasons, to bring us side by side beauty and suffering, a physical search and a spiritual quest, going beyond oneself through the great rebel spirit of the artist. That spirit continues on its personal path, no matter what contingences may try to restrict it, it inspires us in turn to go beyond ourselves too, to understand something about life, even so small. Whatever that little thing we understand, it becomes our connection, so that we too, can rise and enter the circle of the "stonehenges".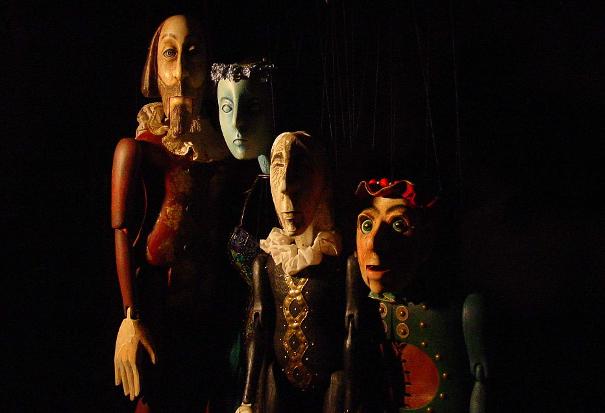 Shakespeare, Ophelia, Hamlet and the Fool
Wood, oil paint, fabric and metal
Shakespeare: 40"X 12" / 102cm X 31cm